BRAZIL, MEXICO AND ARGENTINA FAs FINED FOR HOMOPHOBIC CHANTS
Submitted by
content
on Thu, 05/25/2017 - 11:36
Body:
World football regulatory body FIFA has fined the Football Associations of Brazil, Mexico and Argentina for homophobic chanting in their World Cup qualifiers.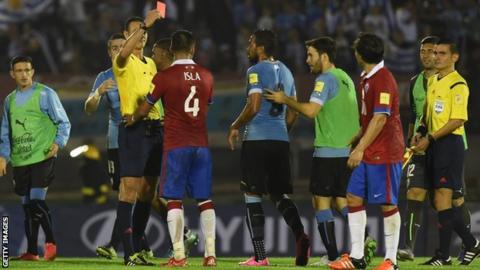 Brazil and Argentina FAs were fined over £27,000 and about £15,500 respectively but their Mexican counterparts would part with £7,781.
FIFA found the three South American sides guilty of homophobic chants in the recent 2018 World Cup qualifying games. FIFA released a statement saying the fines were "for incidents involving discriminatory and unsporting conduct by fans, including homophobic chants" but the exact games were not mentioned.
Aside the three teams, Albania's football association would pay about £78,000 in fines for several incidents during their World Cup game qualifier against Italy. Both sides met on March 24 but the use of pyrotechnics meant the match was delayed for several minutes. Italy won that match 2-0 but FIFA fined them £11,701 for incidents in that game.

Iran Football Association was fined £39,015 for using pyrotechnics as well in the game against China. They were also charged for stadium overcrowding. On the use of pyrotechnics by fans, Bosnia and Herzegovina, Poland and Montenegro were fined £20680, £13656 and £11701 respectively.
FIFA released the statements after its Disciplinary Committee agreed on the sanctions for all the erring nations. The body says it has taken proactive measures against the incidences by putting in place a "comprehensive strategy" to tackle all the issues. This includes the FIFA Good Practice Guide on Diversity and Anti-Discrimination released in 2015. The body has also tackled the issues through sensitization and training programmes and help to member associations.